The Company

Rduch-Borek windows and façade technology
Company:
Our family company has been producing window and door frames for 20 years. We assume that to make our dreams come true we still have to improve products and services we offer. That is the reason why we still invest in the development of new technologies, always trying to be one step ahead others. For the same reason we put special emphasis on every detail according to the customers` needs.
The luxury of having an exclusive window
Thanks to the usage of wooden sections, PVC technologies and systems which combine wood with aluminium we manufacture doors and windows that guarantee safety, calm and nice atmosphere. We are extending our offer with façades and orangeries as well as novel solutions in roller-blinds and shutters since we know that a flat is something more than only walls. Wide range of colours, elegant design and diversity of details make that our products meet the requirements of our customers perfectly.
Wooden doors – stylized by hand
We have our finger on the pulse and in our factory we implement current and pioneering technologies. As the result our shop floors, with a floor area of two thousand square metres, are equipped with modern machines. We employ almost 30 perfectly trained workers specializing in the production of woodwork, doors and windows. Their work is coordinated by our office team who can advice our customers starting from the project, building technology and the choice of woodwork to the accesories.
Why?
We like our profession because it lets us to find fulfilment in a creative way. That is the reason why we look after our staff, still improving their qualifications. We put solid knowledge and long-standing experiance into our work. What is more, we are eager for developement and every technical innovations as well as for our customers` needs who can make their dreams come true by the products we offer.
Awards and certificates
Enterprise Leader
2002

Junior Business
2006

Chamber of Commerce
and Industrial District
Rybnik

Chamber of Commerce
and Industrial District
Rybnik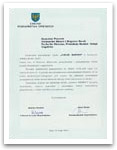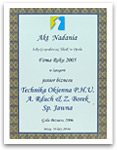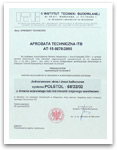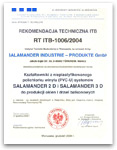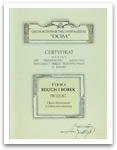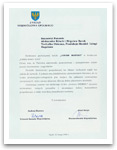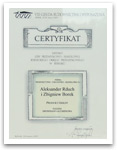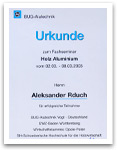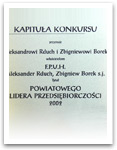 We work with companies:
NEW
Making roofs made of glued wood
Mosquito nets in various systems
Metalworking - balustrades
Roofing elements
ENERGY SAVING WINDOWS
Windows for years!
We offer you modern energy-saving wooden windows with a profile of 92 | Triple glazing | k=0.4/0.5
Perfect for passive houses.
100% QUALITY GUARANTEE
Call and find out:
+48 32 476 06 70