Winter Gardens and Facades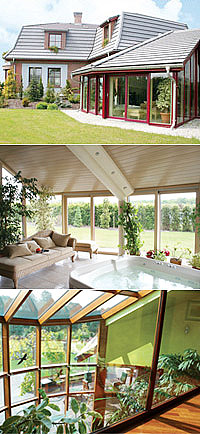 Your house in an individual style
A unique construction and a perfect layout make that our winter gardens let you enjoy spring all through the year. Thanks to the glass walls, the interior is sun-filled the whole day, and the combination of wood and aluminium ensures solidity of the garden. A special design allows keeping light, warmth and nature right behind doors.
In hormony with nature
In the winter gardens we create we use the solutions which give the atmosphere of constant spring at the same time ensuring high solidity of construction. In the process of building them we are guided by the same rules which are used in the production of the windows and doors. We put emphasise on energy sufficiency of our products as well as on minimalisation of effort and costs at their maintenance.
Feel joie de vivre
An exact planning of the facade layouts, taking into consideration the place as well as the type of glass and the needs of our customers, the winter gardens we build create a great climate and protect plants regardless of the season. Creating them we also take into account the individual needs of the customers, requirements concerning darkening and lightening, heating and air circulation – that all in order to reflect the dreams of the investors.
View the details of the production of winter gardens →
Downloads
Winter Gardens → Examples of
Click on photo to view gallery
Feel free to contact us, we'll be happy to advise you and help you
choose the optimal solution:
+48
32 476 06 70
or
firma@rduch-borek.pl
NEW
Making roofs made of glued wood
Mosquito nets in various systems
Metalworking - balustrades
Roofing elements
ENERGY SAVING WINDOWS
Windows for years!
We offer you modern energy-saving wooden windows with a profile of 92 | Triple glazing | k=0.4/0.5
Perfect for passive houses.
100% QUALITY GUARANTEE
Call and find out:
+48 32 476 06 70